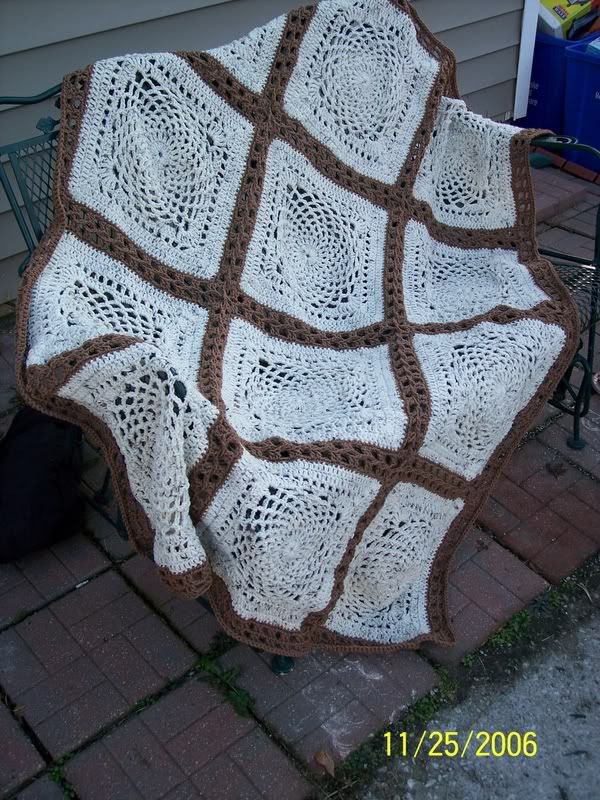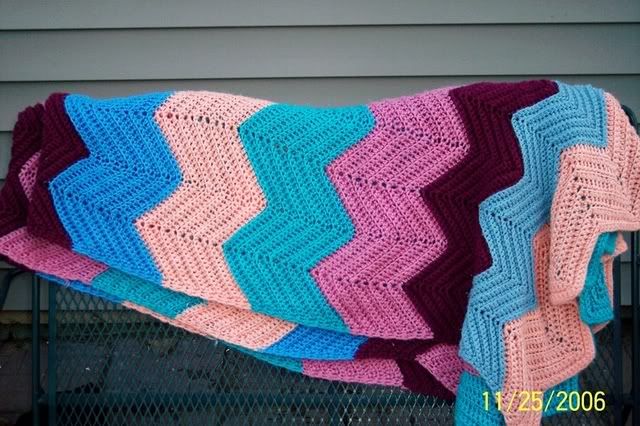 I have had a great Thanksgiving weekend. First of all, hubby and I were actually off for 4 days together. This does not happen all that often. So for that I am thankful.

I was also able to get quite a bit of crocheting done. I finished another seraphina shawl. The one with the rounded bottom instead of the pointed one. I like the look of the rounded. I think it looks a bit more femimine.



I was also able to finish an afghan that my mother started. She made the squares and then got frustrated with the joining. So I did the joining for her. It wasn't too bad and the afghan came out beautifully.




I was going through my cedar chest looking for some of my Christmas stuff and came across this afghan. It is the first afghan that I ever made. I am guessing that I made it about 20 years ago. This afghan is the reason that I do not like ripple afghans to this day. I am also trying to figure out what I was thinking with these colors. Anyway this was made for my grandmother who was going through Chemotherapy at the time. She loved it. When she passed I got it back and have kept it put up. I am now using it again. I can't justify leaving it in the cedar chest when it is perfectly fine to use.

I also finished a baby ghan that I am testing for Lisa at Crochet Garden (but can't post a pic of that one until she releases it).

I think that is about it for now

Hope everyone had a great Thanksgiving.

Enjoy and have a blessed day!